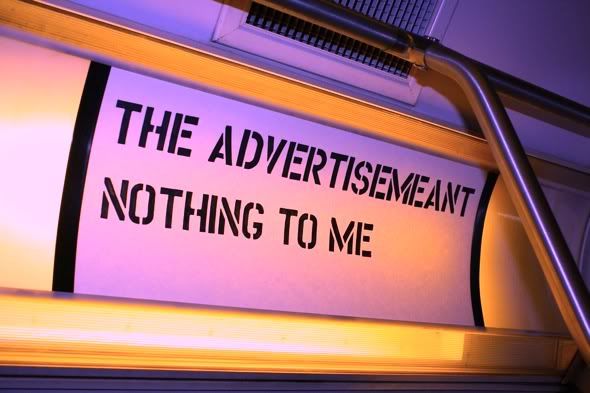 Jerm IX and Vegas just want to see more public street art in Vancouver. In the tradition of the world's greatest graffiti artists, these two prolific tricksters have one big goal — to fill up sad, blank spaces in our city with thoughtful (and sometimes controversial) words and art. True to their word, Jerm and Vegas have spent a great deal of their free time pasting, hammering and spraying various eye-catching statements and graphics on every neglected space they can find.
Most recently, the artists have collaborated to bring their art-based dialogues to one of the most public spaces of all — the Skytrain — in a campaign aptly entitled V-TARP (Vancouver Transit Adspace Re-Appropriation Project). With over 35 installations already applied on Skytrain ads across the city, you may have noticed something a little different during your daily subconscious ad-scanning routines. Imagine this: next to one of those endless, ingratiating McDonald's ads, a smaller ad-sized block of text that declares "I'M NOT LOVIN' IT." If this makes you pause and think, it has done its job.
On a sunny, humid afternoon about a week ago, I sat down with the artists themselves at W2 to discuss their opinions on the status of the guerrilla/street art scene in today's Vancouver. Somehow, I felt they just might know a thing or two about the topic.
Is street art thriving here, I wondered? It seems like there are some truly beautiful mainstream/legal pieces being funded (such as the Paint Your Faith wall in that formerly-depressing empty lot on East Hastings) as well as some innovative (but less legal) installations inexplicably being erected at random locations. But what do these isolated examples say about the overall passion of local guerrilla/street artists here, about their motivations, about their experience and talent? It was time to ask the experts — especially because both Jerm IX and Vegas grew as fledgling street artists in cities other than Vancouver. So, how do we match up in comparison?
"The scene here is healthy," Jerm IX responded after a pause. "However, it's not thriving. The whole reason we are doing V-TARP is to try to inspire more people to use public spaces in this city more for art and their thoughts. There's just not enough people doing it here yet — and the most talented artists don't hit the streets that often — they are more into the gallery worlds… they've decided to spend their time making money, not decorating. For me, I'm out here doing it six days a week — I thrive on it — it's my life. But I wish there was more."
To read the rest and see some great photos, please visit Beyond Robson.